Evan has entertained, educated, produced and programmed in the field of radio and broadcasting for more than 20 years. His most recent radio work can be heard by clicking below.
Evan can be heard hosting The Evan Toth Show on NYC radio each and every Saturday evening at 6:00 pm - and on Sunday morning at 5:00 am - on WFDU, 89.1 FM.
Listen live at: www.wfdu.fm
Evan can also be heard interviewing today's musicians, authors, filmmakers, and other creative individuals on Radar which can be heard as a podcast on The Vinyl District, and also on WFDU, 89.1 FM.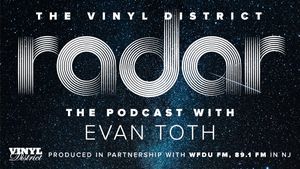 The Interview Archive
0:00/1:00:00

0:00/10:02

0:00/17:51

0:00/14:34

0:00/38:41

0:00/31:45

0:00/38:39

0:00/33:37

0:00/36:43

0:00/38:07

0:00/35:11